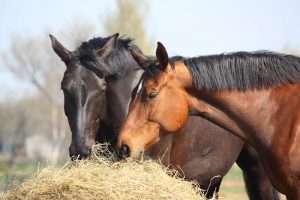 Valley Veterinary Associates offers exceptional farm animal care and veterinarian services to the Otsego, Delaware and Chenango counties of NY. Our veterinarians have over 50 years of experience in both bovine and equine care.
Our hospital has dedicated 1200 square feet to equine and farm animals.
With an assortment of diagnostic tools, we are able to assess, diagnose, and successfully treat our patients.
Endoscope: used to visualize problems in the pharynx, larynx, trachea, esophagus, and stomach. At the back end the endoscope can assess the urethra, vagina, uterus as well as bladder and colon.
Ultrasound: used externally and internally to capture images of the thorax, abdomen, muscle, tendons, and any suspicious swelling.  Also utilized to safely guide biopsy tools into areas that need tissue sampling.
Digital Radiographs: used to enhance subtle changes in both orthopedic and soft tissue problems.  Images can be enhanced as well as sent electronically to specialists for second opinions.
Blood Analysis Machines: allow for accurate results in a timely manner.  This aids in a rapid diagnosis and monitored response to treatment.
Equine Health Services:
Lameness:  full lameness evaluations, nerve blocks, joint injections, ultrasound, digital radiography, acupuncture.
Surgery: Soft tissue and orthopedic services available, from lacerations, cryptorchids, hernias and patent urachus
Reproduction: Uterine culture/cytology, transrectal ultrasonography, hysteroscopy, stallion collection and fertility evaluation, cooled and frozen semen breeding.
Routine Health Care: Hospital or farm services include preventative, proactive health services.  Pre-purchase exams, opthalmology, dentistry, reproduction, parasite control, nutritional consultation, vaccination review and implementation, 24/7 emergency calls available to established clients.
Acupuncture: licensed IVAS veterinarian
Ruminant Health Services:
Surgery: DA, C-sections, hernia, lacerations
Reproduction
Dystocia
Nutritional Consultation
Lameness
Contact Valley Veterinary Associates today at (607) 563-1345 to schedule your appointment, or browse our website for more information regarding Our Veterinarians or Pet Care Services.